Your site was definitely better than most of the drivel
that applies for my award. You really have talent. I wish
more of the sites that apply for my award were as good as
yours.
In case you haven't figured it out yet, you have WON my award!
The award name is the "Top Site Award" and I am very
selective regarding who I give it to.
But as I said, you have an above average web site and I am
pleased to give you my award.


I was quite taken with your site.
It was more than qualified to win my award,
the Elite Site Award.
Hey, most sites don't even come close to winning my award.
But yours was a hands down winner. Congratulations!!!!!!!

I would like to give you our award.
Your site really exceeded our high standards. I was impressed.

Bill, from Critical Mass wrote:
"Congratulations!!......Your site definitely qualifies
for the 'Critical Mass Award'. A very nice site, excellent
design, clever, original graphics & artwork, great photos,
and you have provided your visitors with content that is
informative, entertaining, presented well and easy to access.
A worthy tribute, and a positive contribution to the Web".

We have sent someone from our award staff to your web site and
they have determined that your site is Domain-Me Award For
Artistic Ability material!That means you win our award!
Believe me, not many win our award. For you to have done so
shows great talent. We would like to congratulate you for all
the hard work you have obviously put into your web site.
It takes someone with a certain level of skill to design a
site such as yours, and you are to be given great credit.
Once again, let me thank you on behalf of all of us in the
award staff on a job well done.

I'm honored to tell you that after reviewing your website, I have decided to bestow my award upon your site. Your site has everything I look for in a web site. It really was one of the Best of the Web.

The Design Award was gratefully recieved
October, 2001

We have finished the judging process for your site:
'The Shadow Zone' and we're
very impressed. Your site is certainly news worthy and
therefore you win our award!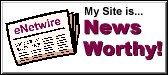 Congratulations!
You have a spooktacular site.
You have won the outstanding Spooky Site award from SpookyWorld
"America's Halloween Theme Park".


Congratulations Francis,
I just had a chance to look at your site.
I sure liked it!Your site scored excellent in every category I rate sites under.
You have a very good site and I am very honored to give you my
award.

Proud winner of the Gold Artsy Award - August, 2001.
Apparently only 5 % of websites aknowledged by the
Artsy Foundation recieve the Gold award.
It was a special day when we recieved this, our first award.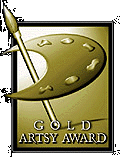 I have decided to give you my award. You really
have a great site! I enjoyed viewing it.

We usually get together
around the office and pick one or two or 10 sites a day.
In case you haven't noticed yet, we're a bit of an odd bunch
of people.
But what do you care because we've just given you our award!
AHHHHHHHHHHHHHHHHHHHHHHHHHHHHHHHHHHHHHHHH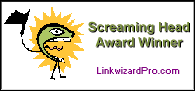 Congratulations, you have won the ForsakenRealms.com Dark Site
Award, presented to you by one of the leaders in online
roleplaying gaming software - Forsakenrealms.com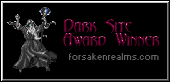 I'll take it, but I don't know how The Shadow will
feel about it!